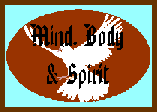 This is a new page I am working on.
If you know of any URL's which you find helpful in your walk please let me know. Thank you.
This is my page of feelings. They are my Feeling. One day as I was walking and talking to My Higher Power ( I call Jesus) it came to me. (3 in 1) I needed to get balanced.
Body, Mind, and Spirit.
The Spirit part was doing quite well.
The Mind part is up there too, but the Body part was lacking .
That was what I started praying about.
Then came Phil and with him came Macrobiotics.